#1 Fencing Suppliers & Manufacturers in Dubai,Abu Dhabi, Sharjah, UAE
Are you Looking to buy Fencing? Don't go beyond. We are the best customer centric fencing suppliers & manufacturers UAE– (Dubai, Abu Dhabi, Umm Al Quwain, sharjah, Ras al Khaimah, Ajman, Al Ain, Fujairah) Oman, Saudi, Bahrain, Iraq, Qatar, Kuwait, and North Africa (Algeria, Egypt, Morocco, sudan,Tunisia, Western Sahara).
Incorporated in the year 2012, Metal and Machine is one of the most diversified, dominant, and Premium fencing manufacturers in UAE and other countries worldwide. Metal and Machine houses the advanced equipment in the industry, and we also follow the most effective and duteous production techniques. Our industrial unit is backed and managed by a skilful team of experts who have accomplished large-scale projects since inception.
We offer a plethora of Corrugated or Temporary Fence, HERAS Fencing, Chain Link Fence, Continuous Fence, Temporary Hoarding Fence, Eco Plastic Fence, Welded Mesh Fence, Metal Barrier Fencing, Pedestrian Fencing, Eco Plastic Fencing Panels, Sandwich panel for roofing and wall, Purlin z and c, GI Decking Sheet, Steel and Aluminium Coils, Steel Pipes and Tubes, Metal Fabrication, etc. However, if you search for the finest quality fencing at unbeatable prices with the most promising services, nothing can beat Metal and Machine. Moreover, our blazing-fast deliveries with around the clock customer services make us the frontrunner fencing suppliers in UAE.
Premiere Fencing Contractors Companies in UAE- Metal & Machine
We at Metal and Machine- Leading Fencing Contractors have advanced a complete in-house ability to export and supply a range of fencing systems and solutions. With us, you can purchase metal items and products from temporary fencing to metal fencing to utility fencing to chain link fencing and many more. The experts at Metal and Machine is highly trained and experienced in designing and fixing several ranges of fencing in UAE. The company is furnished with advanced technology that assists in manufacturing competent items and products. The team of experts here are engaged in producing and delivering a high-tech solution to valuable customers.
Hence, when it comes to Fencing companies in UAE reach Metal & Machine offers a plethora of fencing solutions for commercial and residential uses. Our team of experts leaves no stone unturned in providing reliable, affordable, and outstanding longevity in providing fencing systems.
MS / Mild Steel Pipe and Tube

Metal and Machine is a renowned name as a Manufacturer, Exporter, and Mild Steel Pipe and Tube suppliers. The products which are supplied to the customer are made from High Quality…
ABOUT US
We have a globally spread network of clients who used our Metal Fence services. We have as well as a remarkable track record in the fence manufacturing and fence supply markets.
Metal and Machine is a renowned Exporter, Importer, Supplier and Service Provider of a wide range of products like Industrial Steel Coils, Pipe and Tubes, Chain Link Fence, HERAS Fencing, Metal Barrier, Eco Plastic Fence, Discontinuous Hoarding Fence, Continuous Hoarding Fence, Temporary Fence, Sandwich Panels, Purlins, U and C Channels ,Building Construction Materials, Hoarding Fence Installation, Mild Steel Products, and ERW Pipes and Tubes.
Our all fence and roof products are quality assured as well as reasonably priced.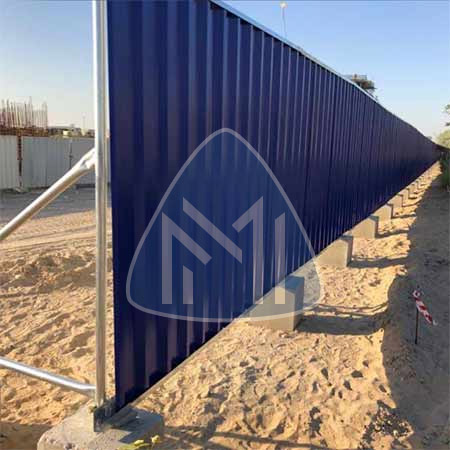 Why Choose Metal and Machine?
Metal and Machine takes pride in the level of service we provide to their clientele. Our commitment to outstanding service
is evident and demonstrated in these ways:
Importance of Fencing
Fencing provides extra security, protection and assurance to a property. Furthermore, you can paint a wide range of fences to add your ornamental touch to your property, as well. Notwithstanding, each fence holds its interesting attributes, making some more fit to explicit conditions than others.
All fences provide additional security, privacy and protection to a property. additionally , you'll paint all kinds of fences to feature your own decorative touch to your property, too. However, each sort of fence holds its own unique characteristics, making some more suited to specific circumstances than others.
Here, we're getting to check out each sort of fence and where they're best used.