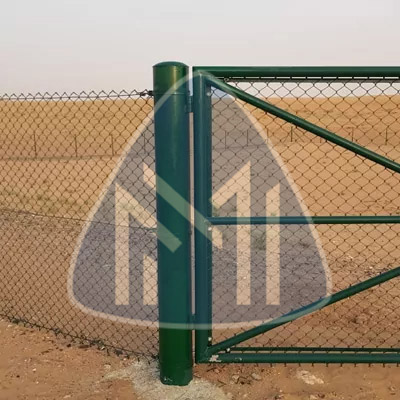 Chain Link Fence
Metal and Machine is one of the most prevalent, diversified, and most prominent Chain Link Fence Suppliers & manufacturers in UAE. We provide you high-value products that have been comprehensively processed and manufactured. Metal and Machine's highly-skilled professionals manufacture tailor-made wire and mesh types as per the clientele's requirement. As a result, all our products strictly adhere to local and international standards and specifications.
Description
If you are in search of a tailor-made, strong, and safer Chain Link Fence UAE (Dubai, Abu Dhabi, Umm Al Quwain, Sharjah, Ras al Khaimah, Ajman, Al Ain, Fujairah)? Then don't look further than Metal and Machine, which is the world's leading manufacturers and supplier of high-quality chain link fencing in UAE.
Metal and Machine is a one-stop shop for chain link fences in commercial and residential applications. With advanced production technology and innovative product design safeguards, Metal and Machine products deliver a safer and more efficient demarcation solution.
A chain link fence is also referred to as diamond wire mesh, hurricane fence, or cyclone fence, is one of the most longevity yet economic fencing material that provides you and your properties utmost security. This sturdy fencing solution is made with several metals' wires weaving by a chain link fence machine.
Chain Link Fence is divided into two categories by different coatings and, i.e., Galvanized and Vinyl Coated Chain link. Chain link fence is constructed of steel wire woven and interconnected in a diamond pattern; chain link fabric upholds an open appearance, which does not render vague the view beyond the fence. Chain link material offers a range of aids which makes it tempting to commercial and residential properties. Razor wire and barbed wire can be used at the top of the chain link fence for high-security purposes.
Chain link fencing common specification:
Metal and Machine uses the following materials to make Chain Link Fence:
Material: Hot Dipped galvanized steel wire and PVC Green color RAL 6005 inside Hot Dipped galvanized steel wire
Wire Día: 2.50mm to 5.0mm
Mesh opening: 25x25mm, 50x50mm, 63x63mm, etc.
Size: Length(8m, 10m, 15m , 20m as common usual)*Height(0.5m-6m)
Twisted Edge & Knuckle Edge for fence link chain
PVC coated steel wire
Barbed wire
Razor wire
PVC wire
Galvanized wire
Chain Link Fencing Types
PVC Coated Chain link Fence
Galvanized Chain link Fence
Stainless Steel Chain Link Fence
Three Ways Of End Treatment

Features of Chain Link Fence
Easy Installation:Utilization of modular cinching apparatuses advances simple and quick installation which eradicates any welding or production on the spot along these lines diminishing expenses.
Slope / Gradient Installation: The fence can be handily extended to cover uneven mountain terrain which makes it more adaptable.
Logistics Friendly: Chain link material is packed into compressed rolls that makes itself easy to transport and handle.
Longevity: Accessible in different covering choices relying on the natural and site condition to assist with combatting erosion from corrupting its life. Covering Options: Zinc EcoZal (Zn 90% + Al 10%) PVC Glued PVC Fusion Bonded PA6.
Different Mesh Size: Its mesh size can be shifted relying upon application and security requirements.
Transparent Structure: Chain link fence basically includes a woven construction that guarantees the security of the property, while offering an unhampered view from the both sides of the fenced premises.
Low Maintenance: Chain link fence are electrifying and go through PVC covering, the danger of rusting is totally disposed of, subsequently requiring insignificant upkeep.
Chain Link Fencing | Wire Type Fencing | Mesh Fencing Dubai
To make the steel fencing installation measure a lot of smoother and quicker Metal and Machine utilize the following strategy. This procedure makes the fencing secure. The chain link fence is made by bending wires together to frame winding shape which is smoothed. It is a direct result of this chain link or wire link fence are additionally called cyclone fences or diamond mesh fence. We follow the way toward contorting the wire consistently spirally around the cutting edges and winds when it arrived at the furthest finish of the fence then the wire is cut. The whole fence is gone up when the wires are spirally squeezed during the subsequent cycle. This interaction is rehashed making a cover toward the finish of second wire winding contorting. Then, to lock the both ends a tool is utilized after adding few more curves which makes the joint enduring.
We are one of the best fence manufacturers and Suppliers in UAE.
We offer our clients with different types of fences like a chain link, welded mesh panels, and many others
Get a customized product for protecting your yards, villas, kennels, stables, farms, borders, etc.
We can easily customize the color of the wire.
Get the guided instruction from the experts
Use of high-tech technology to design and joint different types of wire.
We also offer you cast aluminum, cast iron fence for road dividers, boundary walls, etc
Get your fence designed with Various heights & dimensions.
Get service for the installation process.
If you are looking to get Temporary Fencing UAE then we are the best option for you. We have skilled engineers to provide you with the best fencing solution. For any type of add on feature, you will get a proper corporation with our team.  You can choose any color for your wire; we customize the product as per the needs of our customers. We take complete care of customer satisfaction. Our Engineers are present to deliver end to end solutions for the entire process.
STANDARD SPECIFICATIONS
 

Mesh Size

(mm)

Wire Diameter

(mm)

 

Coating Standards

 

Fabric Length

(Meters)

Galvanized
PVC Coated
25 x 25
2.00  – 4.00

(As per

BS EN 10218-2)

ID 1.40/OD 2.00 –

ID 4.00/OD 5.00

(As per

BS EN 10218-2)

Galvanized: ASTM 392 Class 1 & 2

ASTM A641 Class 3,4,5 / A,B,C

BS EN 10244-2 Class A,B,C & D

PVC Coating: BS EN 10245

10 – 25
50 x 50
65 x 65
75 x 75
Post Section
Diameter
Coating
Circular hollow Section
32-150mm

(ASTM A53 & BS EN 1387)

Hot Dip Galvanization:

300GSM to 610GSM

(ASTM A53, ASTM F1083 & BS EN 1461)

PVC: Min 250 Microns

Polyester Powder Coating:

60 – 80 Microns