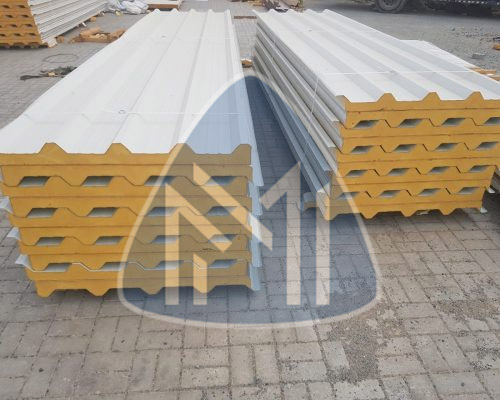 Sandwich Panel for Roof And Wall
Metal and Machine management team offers various opportunities for metal manufacturing, exporting and supplying to various areas of UAE. Our package is created by gaining in-depth insight into the demands of the client and also by considering the current trends. You will get a wide range of Sandwich Panel roof in UAE starting from a trapezoidal sheet, corrugated steel or metal roof tiles. Our acoustic sandwich panels are manufactured both for roofs and walls.
Description
Sandwich Panel Suppliers in Dubai, UAE, KSA, Qatar
Metal and Machine is a leading Sandwich Panel Supplier in UAE. Metal and Machine's high and standard quality sandwich panel for roof and wall are supplied to every nook and corner of UAE such as Dubai, Sharjah, Ajman, Abu Dhabi, Ras Al-Khaimah, Al'Ain, Fujairah. We also export to GCC countries like Oman, Saudi Arabia, Iraq, Jordan, Kuwait, Bahrain and also to African countries like Algeria, Comoros, Namibia, Sudan, Tunisia, Cameron, Nigeria, Uganda, Eritrea, Libya, Somalia, Ethiopia, Tanzania, Djibouti, Kenya, Mozambique, South Sudan etc.
What is a sandwich panel?
Sandwich Panels are utilized as Roof boards for Shopping Mall, School, Labor Camps and any sort of structures. They are also utilized for prefab houses and versatile lodges and utilized for cold rooms like cooler and chillers. The sandwich panels are lightweight and financially savvy, and simple to ship and install.
The sandwich panels are brilliant rooftop and divider cladding framework portrayed by unrivalled protection esteems. We are the main sandwich panel provider in Dubai for clear reasons. Our sandwich panel have been painstakingly produced according to ISO guidelines and are accessible in a wide scope of froth centre thicknesses to suit each request of the clients. Various customers have distinctive energy productivity needs, and to stay aware of the assumptions, we attempt to convey the best cladding arrangement. Each panel is planned with fluctuating lengths to accelerate the establishment cycle and guarantee solid and maintainable construction.
Sandwich panels are otherwise called composite sandwich panels, protected sandwich panels, Sandwich panel rooftops, Tiles Sandwich, Sandwich panel dividers, PUR Sandwich panels, PIR Sandwich boards, Double Skin Panels, and Single sheet sandwich boards. We offer three types of sandwich boards dependent on the protecting materials – Polyurethane (PU) sandwich boards, Polyisocyanurate (PIR) sandwich boards, and Rockwool sandwich boards. The two external outer sides are accessible in level and ridged profiles. The wide scope of shadings, coatings, shapes, sizes, and measurements works with an exceptional development plan. AS of late, our PIR boards have been certified by the Dubai Civil Defense (DCD), which implies that our boards are 100% safe for use in applications requiring high fire security.
The wide range of fabrication options and the best sandwich panel price make Metal and Machine premier suppliers different from others. Our in-house construction workshop comprises teams of experts and professionals that can tailor and assist in delivering all sorts of PUF Sandwich Panels, Insulated Sandwich Panels, EPS Sandwich Panels, PU insulated panels, Rockwool Panels, Composite Sandwich panels at your doorstep. You can also contact Metal and machine for all sorts of sandwich panels specifications.
You will always get a great price and offer from us. Our expert team can customize and deliver all kinds of Insulated Sandwich Panels, PUF Sandwich Panels, Rockwool Panels, EPS Sandwich Panels, PU insulated panels, Composite Sandwich panels at your doorstep. In addition, you can contact us for all kinds of Sandwich Panels specifications.
Types of Sandwich Panels- Depending on Surface Finish Types:
Sandwich Panel Layers:
Metal and Machine's Sandwich Panels are manufactured in 3 layers – the inner sheet, outer sheet and insulation core. The three layers ensure sound and thermal insulation, waterproofing, fire resistance and load resistance for your buildings.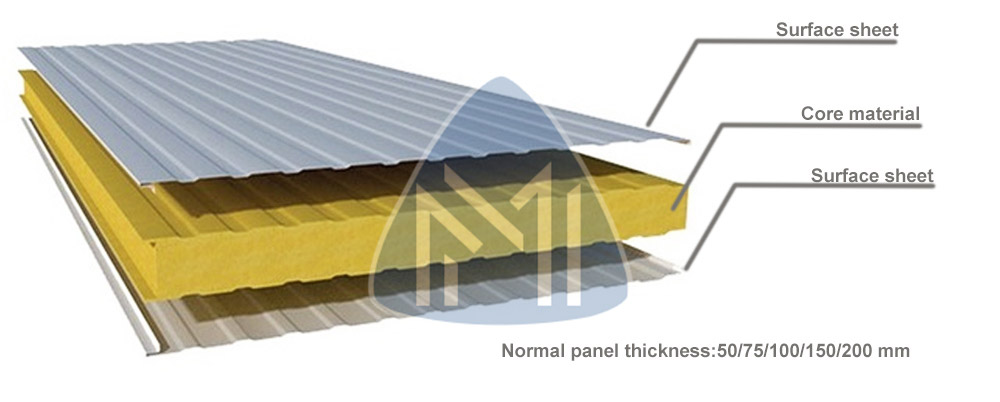 Dimensions of Sandwich Panel:
Top Skin Detail:
35/200 mm & GMI 45/250 mm
Thickness: 50mm
Covering width: 1000mm
Thickness Specificaion:
Top and Bottom Sheet: – 0.40 mm to 0.90 mm of the
Width of the Sandwich panel: 1050 mm
Covering Width of the sandwich panel: 1000 mm
The length of sandwich panel might go up to 12 mt
Bottom Skin Detail:
Color coated steel sheet
Galvanized Pre-Painted
Low Rib Profile of Galvanized Mill Finish,
Alu Zinc PVDF and Polyester Coated Alloy Steel
Aluzinc
Mill finish aluminum
Aluminum Polyester Coated
GI PVDF Coated
Color coated Aluminum Profile
GI Polyester Coated
Aluminum Foil as bottom
Aluminum PVDF Coated
Sandwich Panel Application Areas:
Commercial Buildings
Residential Buildings
Cold Storages
Power Plants
Processing Plants
Sports Facilities
Shopping Malls
Agricultural and Husbandry Buildings
Industrial Buildings
Sandwich Panel Advantages:
Fast and Easy Installation: In opposition to the customary frameworks, ceaseless line produced sandwich panels are entirely viable and prepared to gather pieces that are ready in the necessary measurements, protection types and tones dependent on the design of your office. With designing and quality control measures led in advance at the manufacturing plant.
Installing the sandwich panels is exceptionally simple, with the couple of joints on broad surfaces. The span of conveying and cladding is amazingly shortened through cutting-edge transport openings and mechanical lifting gear. Along these lines, your project is delivered in a short span of period, permitting you to save time and save big money.
Aesthetic Appearance of Your Buildings: The viewpoint of your edifice is actually similar to the perfect reflection. That is the reason we add novel plans to our sandwich panels each day for the tasteful of your structures. You can brighten life into the external dividers of your structure and get and aesthetic appearance with the sandwich panels designed in various tones and in a construction that empowers them to be positioned evenly, in an upward direction or angular. Because of their component to be utilized in the interior areas too, you can make various designs with the sandwich panels.
Air and Water Tightness: Because of their ideal joint detail, Metal and Machine sandwich panels forestall air and water spillage. While they guarantee the progression of warm protection, heat isn't lost anytime of your structure. Consequently, you take the warming and cooling in your structure leveled out and guarantee energy proficiency.
With a watertight construction, sandwich boards guarantee dynamic hydro-protection against normal conditions like snow and downpour, and forestall stickiness and form. As they frustrate consumption on the heap bearing constructions, they give a solid and agreeable climate in your structure. Your structure becomes stronger and more durable.
High Fire Resistance: Sandwich panels show outstanding execution when presented to flares. Some varieties offer resistance to fire to temperatures up to and surpass 1000° C.
By utilizing sandwich materials in the development of a structure, building creators and designers can all the more likely guarantee the security of workers and gear. Notwithstanding, they should consider the size and tallness of the structure and the level of resistance to fire required.
Perfect Thermal Insulation: Sandwich Panel displays great thermal insulation properties. Be that as it may, the thermal insulation versus thermal conductivity of the material shifts relying upon the sort and thickness of the materials utilized.
Utilizing sandwich panels in the development of a structure lessens the measure of energy required for warming/cooling activities, which means lower in general energy costs. Moreover, appropriately incorporated, they decline the danger of shape arrangement and overabundance moistness that stems from warm development and buildup. The thickness of the protection material utilized in the sandwich framework relies upon the warm and burden bearing limit necessities, ecological conditions, and building reason.
Sound Insulation: In applications that produce undeniable degrees of noise, sound protecting materials becomes a basic. They assist with secluding the wellspring of commotion from different regions inside an office, which helps keep those regions tranquil and agreeable for laborers and bystanders.
Cost-Effectiveness: Sandwich structures are a practical choice on the grounds that their center materials are more affordable than other composite support materials and simple to co-fix to the skins in a single shot cycles (e.g., resin imbuement). Also, their intrinsic solidness brings down their maintenance costs.
High Strength-to-Weight Ratio: Contrasted with strong covers, sandwich panels have better solidarity to-weight proportions. Subsequently, they can uphold equivalent burdens with less underlying material, which can prompt lower material buying and transportation costs.
Metal and Machine manufacture and supplies tailor-made sandwich panels roof / wall according to the requirement of customers throughout UAE – Dubai, Sharjah, Ajman, Abu Dhabi, Ras Al-Khaimah, Al'Ain, Fujairah. We also export to GCC countries like Oman, Saudi Arabia, Iraq, Jordan, Kuwait, Bahrain and also to African countries like Algeria, Comoros, Namibia, Sudan, Tunisia, Cameron, Nigeria, Uganda, Eritrea, Libya, Somalia, Ethiopia, Tanzania, Djibouti, Kenya, Mozambique, South Sudan etc. We are well known in these regions as a quality and top sandwich panel supplier.
Grade Specs:
Aluminum Alloy: 3105, 3003, 1100, 1050
Aluminum Pre-painted and Mill Finish color coated
Temper: H16
Galvanized Steel Coil As per ASTM A653
Lock forming quality with Zinc coating from G60 to G90 or 180 to 275 GSM
Top Paint: 5 Micron Primer + 20 Micron paint (5+20 Micron)
Bottom Coat: 5 Micron Primer + 7 Micron Paint (5+7 Micron).
Alu Zinc ASTM A792 with Zinc Coating Z80 to Z220
Top Paint: 5 Micron Primer + 20 Micron paint (5+20 Micron)
Bottom Coat: 5 Micron Primer + 7 Micron Paint (5+7 Micron)
RAL color of Sandwich Panel Roof / Wall
RAL 5002 – EMMAR Blue
RAL 1014 – Light Beige
RAL 9002 – Off White
RAL 1001 – Beige
RAL 6029 – Light Green and more
RAL 5012 – Light Blue
RAL 5010 – Dark Blue
RAL 7046 – Dark Grey
RAL 7036 – Grey
RAL 7037 – Grey
RAL 1015 – Ivory
RAL 9003 – White
RAL 2004 – Orange
RAL 9010 – Pure White
RAL 3002 – RED
RAL 3020 – RED
RAL 7015 – Grey
RAL 6038 – Green and more
At Metal and Machine – we manufacture and supply sandwich panel roof / wall for all important projects developing in UAE – Dubai, Sharjah, Ajman, Abu Dhabi, Ras Al-Khaimah, Al'Ain, Fujairah. We also supply the panels with customized color as per the requirement of our customers.
PU Thickness: 30 mm to 150 mm
Standard PU Thickness: 50 mm/75mm/100mm for roof & wall sandwich panel
Metal PU Foam Polyurethane B2, B3, Polyisocyanurate PIR and Rockwool
PU density: 35 to 38 Kg
Sandwich Panel Roof
The roof of a structure is perhaps the main pieces of the architecture of the structure, while being the part that is influenced the most from natural conditions like snow, downpour, and tempest.
On account of Metal and Machine's sandwich rooftop panels, guarantees thermal, humidity, water, sound protection and resistance to fire particularly on the rooftop claddings of mechanical structures. In this manner, you make your structure stronger against intense natural calamities.
As indicated by the necessities investors and designers feel for the structures, Metal and Machine produces PUR, PIR, Mineral Wool and EPS protected rooftop boards in 3 and 5 rib structures, and with standard and secret screwed alternatives. In its item range, it offers membraned rooftop panels for low-incline terrace rooftops, and GRP rooftop panels for present day animal and poultry husbandry offices.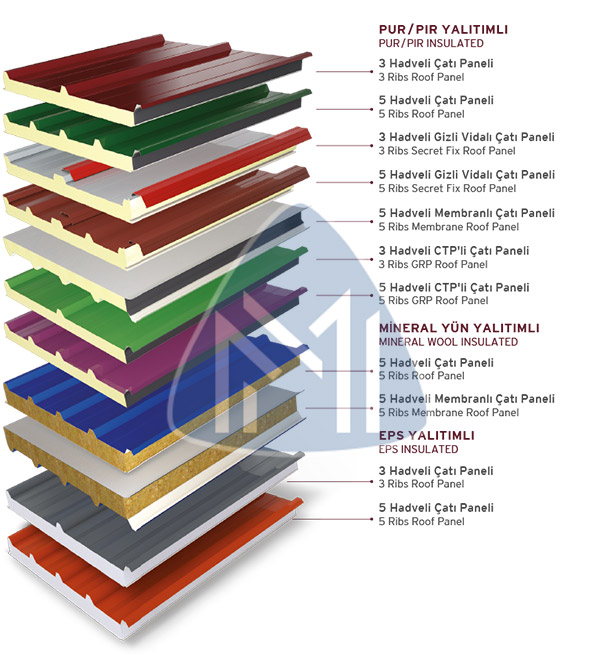 Sandwich Panel Wall
Appropriate for each need and engineering, Metal and Machine sandwich wall panels offer dependable and stylish solutions for the two investors and designers. Metal and Machine produces wall panels of different protection, capacity, and shading options while putting its mark under numerous public and global activities with its services and products. Sandwich panels wall are utilized in numerous spaces – from shopping centers to plants, from modern offices to stockpiles.
As indicated by the thermal, humidity, sound protection and resistance to fire requirements, Metal and Machine has PUR, PIR, Mineral Wool and EPS protected Sandwich panel wall. Executed upward or evenly for the outer appearance of your structure, the Sandwich panel wall can be utilized inside as segment divider and roof. With its sandwich panel wall with outer or secret fixing joint detail, Metal and Machine offers both solid and stylish divider answers for your structure with different surface sorts and profiles to select from.
Sandwich Panel Prices
From plants to arenas, from shopping centers to pools, sandwich board is a strong and monetary solution for some structures. Alongside modern structures and social regions, sandwich board goes to the bleeding edge as an item, favored progressively step by step with its new spaces of execution like military structures, horticultural structures, pre-assembled lodging, worksite structures, storehouses, and homes.
Which class is your structure in? In the event that you don't have a detail, you can inform us about the utilization highlights and we can offer you the proper product.
Guaranteeing thermal and sound protection and waterproofing, just as fire and load resistance for your structures, sandwich panels are delivered in 3 layers – internal sheet, external sheet and insulation core. Sandwich Panel Prices are determined by the:
Internal and external sheet type, metal thickness
Covering type and shade of internal and external sheet
Protection center sort and thickness
Aggregate sum of the request
You can counsel to us with this information through our communication line +971561349565 or by filling the inquiry form.
Major Features of Metal and Machine's Sandwich Panels
The major reason why Metal and Machine's Sandwich Panels are recognized throughout Dubai is not only because of the quality but also the outstanding features that comes along with it. Hence, take a look at the advantages of our insulated sandwich panels.
Strong and Rigid
Longevity
Low Maintenance
Chemical Resistance
Dimensional Flexibility
Superior Thermal Performance
High resistance against rough climatic conditions of the Middle East
Best for Middle East Locations
Locations We Supply Sandwich Panels?
Other than offering DOORSTEP DELIVERY of our items in the nearby district for example UAE – Dubai, Sharjah, Ajman, Fujairah, Ras-Al-Khaimah, Abu Dhabi, and Al'Ain, we likewise trade them to Saudi, Kuwait, Iraq, Bahrain, Qatar, Sri Lanka, Jordan, and Yemen.
We take into account a wide scope of clients all through the Middle East and continually endeavor to offer inventive answers for our clients subsequently extending our possibilities internationally.
Contact Top Sandwich Panel Supplier in Dubai
Since we have given you a thought of our determinations, it ought to be simpler to pick the right sandwich boards. Being the presumed sandwich board provider in Dubai, we have faith in consumer loyalty. We have a responsive client care group to react to every one of your inquiries.
For particulars and sandwich board value questions, we would encourage you to mail us at metalandmachine@gmail.com.
General inquiries, you can reach us at our specialists by means of Call/WhatsApp at + +971561349565. We guarantee replies in a blink of an eye to settle your questions at the earliest.