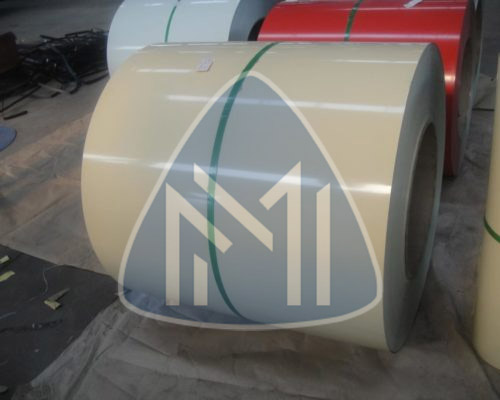 PPGI / Prepainted Galvanised Steel Coil
Metal and Machine is one of the leading metal products manufacturers and suppliers in the UAE. We cordially welcome you to place an order for the prepainted galvanized steel Coil / PPGI steel/color coated steel coil. Our warehouse is equipped with modern technology to bring out the most reliable products. We will not regret in buying products from our company. Because our products undergo various testing to make sure the products, we deliver to our customers should be of the best quality. We are rich with experienced professionals who are dedicated to become one of the world's leading Ppgi coil supplier in UAE.
Description
How PPGI coils/ steels are prepared?
PPGI is mainly prepared by continuous dipping the galvanized steel in a hot-dip zinc mixture. This coating of metal provides strong corrosion protection to metals. It provides cathodic and barrier protection to the base steel significantly reduces the corrosion rate. This led to an increase in the durability of the products. The product gets the strength to fight with this aggressive atmosphere.
Application of Prepainted Galvanized Steel Coil:
Construction of building: roofing; ventilating duct; handrail; partition panel; etc.
In the manufacture of Electric appliances such as refrigerator; washing machine; microwave; etc.
Transportation: oil tank; road sign; etc.
Agriculture: barn; etc.
Others: vending machine; game machine; etc.
We offer you a variety of steel products to satisfy all your requirements. Let us know if you need any of the metal products from our ends. We glad to deliver you custom-manufactured coils and sheets at your service. If you need Sandwich Panel in UAE you can make a call to our experts' team, they will definitely revert you back. You will find a reasonable price for each product. Contact us for any support and services.