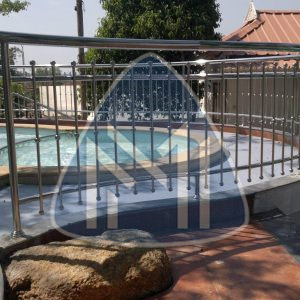 Swimming Pool Fence
Metal and Machine has built a reputation for manufacturing, exporting and supplying quality steel and aluminum products including pool fence. If you looking to fence a new pool or wants to upgrade existing fencing then you can contact us. Our team of experts will help you in designing and installing the exact fence you are wandering around.
You can avail of the most versatile Aluminum pool fencing at a reasonable price. We offer our clients all the different sizes of the product to fence their entire pool. We are the best Swimming Pool Fence Suppliers offering a huge range of colour coated metals that will easily suit your house or terrain design. We also provide customized services to our customers so you can reach our team anytime and ask them to design the element as per your project.
Description
Visit Us To Avail A Wide Range Of Fencing Designs
You can consult our team and put your requirements in front of them, they will definitely put your requirements in the first priority. Here at Metal and Machine, we customize the designs of the fence as per the requirements of the clients. We give you the ideal solution from our skilled team of manpower. If you are looking for PURLIN in UAE, then we are the best option for you. If you really want to know more about our pool fencing and installation process you can make a simple phone call at Our team will answer all your queries in just a single call.